Pop-Up Magazine Productions brings you original, true stories for your nights and weekends.
Why nights and weekends? Because these times are important to us, and they're probably important to you. We're not at work, looking for 30 seconds of distraction. We're less likely to be trying and failing to do five things at once. We're at home, or we're out with our friends and families. We're giving our attention, and we're remembering. At Pop-Up Magazine Productions, we work hard to make things that are worthy of your best time. 
Pop-Up Magazine
This is where our story began. A small group of us decided to create a "live magazine." Writers, radio producers, photographers, filmmakers, and illustrators would perform new, mostly reported stories in all kinds of media mixed together. Stories about science, politics, pop culture, sports, social issues, music, business, art, crime, technology, food, and more. The night would unfold like a classic general-interest magazine, and end with the cast and the audience mingling at the lobby bar. Nothing would be recorded. To see it, you had to be there.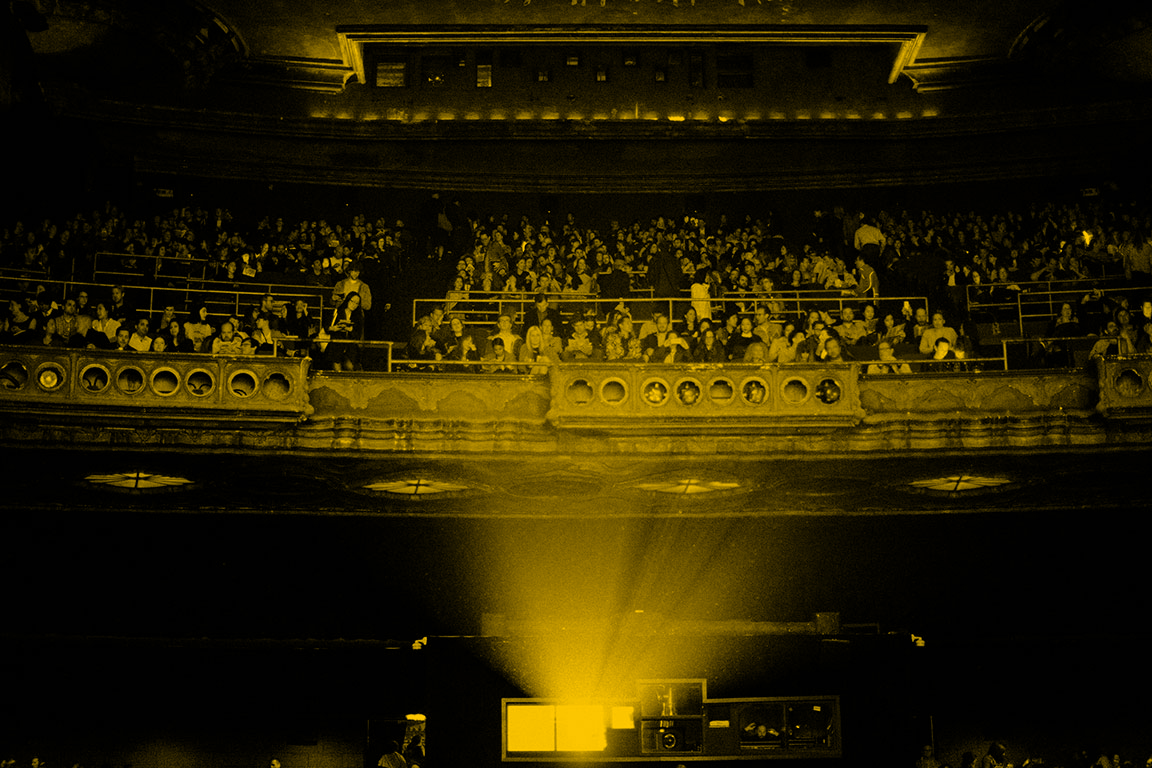 It was a hobby at first, but it grew. We held the first show in a small theater in San Francisco. Soon, we moved to a 2,700-seat symphony hall, and tickets sold out in minutes. Today, we produce shows in cities across the country, at grand, historic theaters like Lincoln Center and BAM Howard Gilman Opera House in New York, the Theatre at Ace Hotel in Los Angeles, Davies Symphony Hall in San Francisco, and the Greek Theatre in Berkeley—and we'll be coming to new cities in 2018. We work with Oscar-winning filmmakers, New York Times bestselling authors, popular radio and podcast voices, and artists whose work appears in major international museums and magazines, as well as emerging talent. Their stories are vivid, multimedia experiences, accompanied by illustration, animation, photography, even shadow theater, and often an original score, performed onstage by our musical collaborators Magik*Magik Orchestra. We still end the night gathered around the bar. Our audiences are as interesting as the performers onstage, and we love to bring everyone together. 
Join our mailing list for the latest news and ticket information. If you're interested in contributing to Pop-Up Magazine, learn more here.
The California Sunday Magazine
Pop-Up Magazine started in California. We're endlessly fascinated and inspired by this place—and by our view of the country and the world from here. In October 2014, we launched The California Sunday Magazine, for weekends. We produce ambitious features and cinematic photography from across California, the West, Asia, and Latin America, for a national audience. We also make a beautifully designed print edition, which we distribute with select Sunday copies of the Los Angeles Times and San Francisco Chronicle. You can also subscribe and receive our print edition in the mail.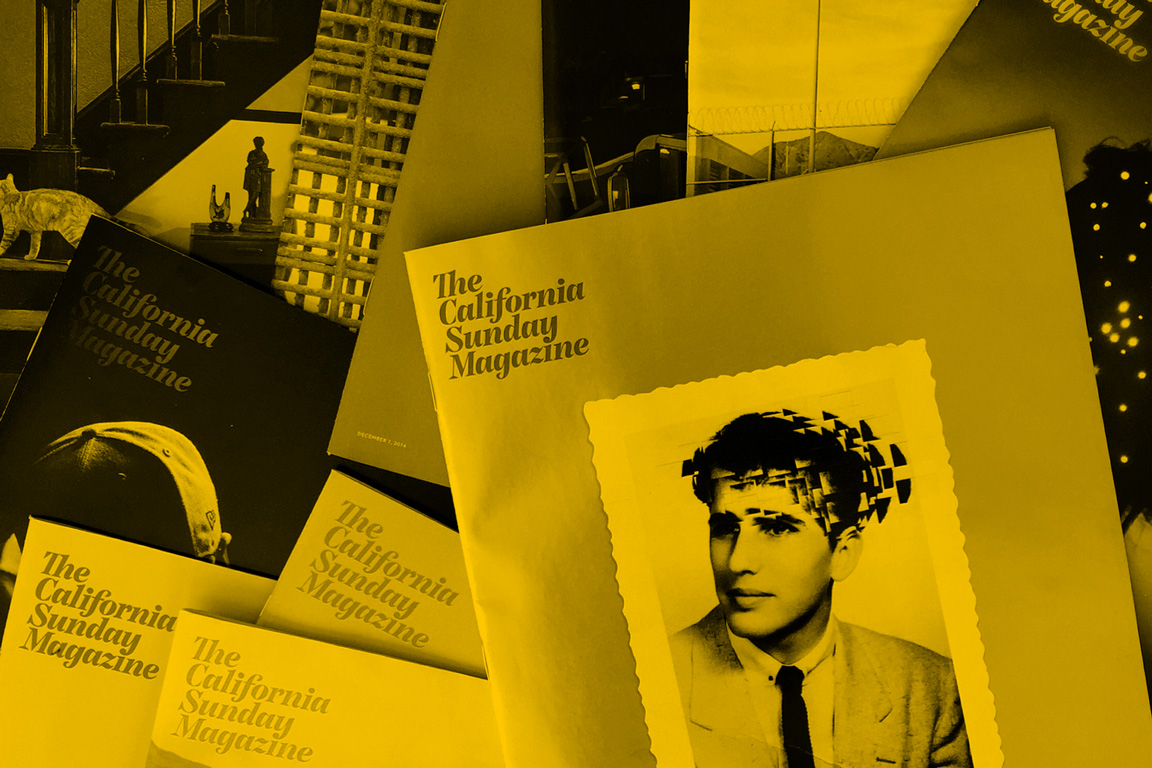 California Sunday earned immediate national acclaim. It has already been named a finalist for ten National Magazine Awards, including General Excellence and Magazine of the Year, and won three. California Sunday is the first title in 25 years to win the National Magazine Award for Photography in consecutive years. The magazine's authors appear on local and national public radio, and their stories are frequently recommended by Longform, Longreads, Buzzfeed, the editors of the New York Times, and others. Several stories have been optioned for television or film. 
Learn more at californiasunday.com or join our mailing list to get the best of California Sunday in your inbox.
The Brand Studio
We launched our Brand Studio in October 2014, alongside Pop-Up Magazine's national expansion and the launch of California Sunday. Our creative business team works with brands to tell their stories through magazine-style features, films, and live experiences. Whether it's producing animated shorts for Google Play (featuring Rashida Jones, Jack Black, and James Franco), a California travel series for Lexus, or a musical bedtime story for Squarespace narrated live onstage by Jeff Bridges, our Brand Studio producers deploy the tools of journalism, storytelling, and design to create smart, stylish campaigns. 
Experiments
We're constantly trying new things. Pop-Up Magazine has collaborated on a live music-and-stories show with multi-platinum recording artist Beck and indie publisher McSweeney's, and on a sports show with ESPN. We opened a restaurant in Oakland for one night, in collaboration with chef and author Samin Nosrat, and turned it into a magazine, featuring films, radio storytelling, photo essays, and reporting in some unlikely formats (the water glasses, napkins, and placemats told stories of their own). We guest edited a session for the main stage of the 2015 TED Conference. We launched a miniseries, Phone Stories, that, every other weekend, releases a phone number with special instructions—for instance, call when you're in the dark—to hear a new story, told over the phone, for just that moment. In 2016, Pop-Up Magazine and California Sunday teamed up with music festival producers Noise Pop to create The Golden State Record, an outdoor show at the 7,500-capacity Greek Theatre in Berkeley, California, featuring musical performances and multimedia stories exploring sounds of the West, from music and pop culture to nature, science, and politics. Plus a special sound-themed issue of California Sunday. 
This spring, we'll be teaming up with National Geographic and the Seattle Symphony, for a one-night-only special event at Benaroya Hall in Seattle on Monday, April 30, 2018. Learn more.
We're just getting started. There's lots more to come. 
Work with Us
You can find our current staff job openings here.
Interested in writing for California Sunday? Send a note to writers@californiasunday.com to receive the magazine's contributor guide, as well as very occasional emails that will let you know if we're developing a special issue or looking for stories on a particular theme.
Interested in joining us onstage at a Pop-Up Magazine show? Learn more here.
Advertising and Branded Storytelling
Interested in advertising and sponsorship opportunities with Pop-Up Magazine and The California Sunday Magazine? For general information about both publications and their audiences, please see our media kit. For branded storytelling programs, rates, and other questions, please email ads@californiasunday.com and we'll get back to you right away.
Staff
Tina Antolini is a Senior Producer for Pop-Up Magazine. Previously, she hosted and produced Gravy, a podcast with the Southern Foodways Alliance, which was named the James Beard Foundation's Publication of the Year for 2015. Tina is a Peabody Award–winning radio producer who has worked in public radio for more than a decade, including at State of the Re:Union and New England Public Radio. Email Tina
Anita Badejo is a Senior Producer for Pop-Up Magazine. Previously, she was associate features editor at BuzzFeed News, where she conducted an investigation into the mishandling of sexual assault reports at two historically black colleges that has led to ongoing policy changes at both institutions. Her writing has been featured on Longform.org and The Atlantic's annual list of best journalism. Email Anita
Jacqueline Bates is Photography Director of The California Sunday Magazine, which won the National Magazine Award for excellence in photography two years in a row, in 2016 and 2017, and Pop-Up Magazine. Previously, she was senior photo editor of W Magazine and worked in the photo departments of ELLE, Interview, and Wired. Bates holds an MFA in photography from the School of Visual Arts, and her work has been exhibited internationally. Email Jacqueline
Thomas Bollier is Production Manager of The California Sunday Magazine. Previously, he was Production Manager at Aperture Foundation, where he oversaw the printing of dozens of fine-art photography books, as well as Aperture magazine. Email Thomas
Cameron Bird is Research Editor. He was previously at Wired, where he worked on feature stories, including finalists for the National Magazine and Livingston awards. His writing has appeared in Newsweek, San Francisco magazine, Paste, and the Orange County Register. Email Cameron
Dave Cerf is Technical Director for Pop-Up Magazine. He has collaborated with Sam Green as a composer for his Academy Award-nominated film The Weather Underground and as co-director on the live documentary Utopia in Four Movements. He assisted editor Walter Murch on Philip Kaufman's HBO film Hemingway and Gellhorn and Brad Bird's Disney film Tomorrowland. At Apple, Inc., he was a lead designer for the video editing software Final Cut Pro X. He also helps to maintain the video archive at the Dalai Lama's monastery in Dharamsala, India. Email Dave
Victoria Chow is Communications Manager for The California Sunday Magazine and Pop-Up Magazine. Previously, she was a senior publicist at Time Inc., where she managed PR for Entertainment Weekly and Food & Wine. Prior to that, she worked in book publicity at Penguin Random House's Doubleday imprint. Email Victoria
Doug Chilcott is Vice President/Associate Publisher, Brand Studio and Integrated Marketing. Previously, he was the creative director at TED and the associate creative services director at The New Yorker. Email Doug
Regina (Reggie) Dvorin is Eastern Advertising Director for Pop-Up Magazine Productions, covering East and Southeast territories. Previously, Reggie was the partnerships director for Red Bull Media House. Earlier in her career, she sold cross-platform programs for Independent Filmmaker Project, Interview Magazine, and Ziff Davis. Email Reggie
Chas Edwards is co-founder and Publisher of The California Sunday Magazine and Pop-Up Magazine, and President of Pop-Up Magazine Productions. He was co-founder at Federated Media, where he served as Publisher and Chief Revenue Officer. As CRO at Digg, he helped launch the first native ad product for social news feeds. Email Chas
Lauren Smith and Derek Fagerstrom are the Executive Editors and founding creative directors of Pop-Up Magazine. They have been curating objects, exhibitions, and events together for nearly 20 years. Email Lauren or Derek
Michelle Fernández is the West Coast Brand Partnerships Manager for Pop-Up Magazine Productions. She previously worked on brand partnerships at TEDx San Francisco, ran content at Watsi, and led marketing, communications, and development at La Cocina. Email Michelle
Lauren Fisher is the West Coast Ad Director of Pop-Up Magazine Productions. Previously, she was the Associate Publisher of Shape Magazine, and fashion director for Allure, Glamour, Jane, and Elle. Email Lauren
Kim Gooden is Copy Chief. She was previously a freelance editor, the copy editor of Radio Silence and the Washington City Paper, and a reader for Spanish publisher Groupo Planeta. Email Kim
Haley Howle is a Senior Producer for Pop-Up Magazine. Previously, she worked as director of KUT Austin's statewide news show, Texas Standard. She also worked to launch the Austin Music Map and the annual MAPJAM festival and was a producer for the award-winning music journalism program Texas Music Matters. Email Haley
ROSELI ILANO is Community Producer for Pop-Up Magazine. Previously she was National Community Engagement Manager at The Independent Television Service (ITVS) where she spearheaded outreach campaigns for award-winning documentary films and media. Prior to that, she was a literary arts educator at WritersCorps and community organizer at Filipino Advocates for Justice. Email Roseli
Annie Jen is a designer for The California Sunday Magazine and Pop-Up Magazine. Previously she was a senior designer at Wired, designer at The New Republic, and freelancer at Rodrigo Corral Studio. Her work has been recognized by the Society of Publication Designers and the Type Directors' Club. Email Annie
Leo Jung is Creative Director for The California Sunday Magazine which won the National Magazine Award for excellence in design in 2017, and Pop-Up Magazine. He is the former design director at Wired and deputy art director at The New York Times Magazine. His work has been recognized by the Art Directors Club, Type Directors Club, and the Society of Publication Designers. Email Leo
Francesca Mari is a Senior Editor at The California Sunday Magazine. Previously she was a writer and editor at Texas Monthly and worked on the editorial staffs of The New York Review of Books and The New Republic. She has written a range of pieces, from true crime narratives to tech stories to cultural criticism, for The New York Times, The Wall Street Journal Magazine, The New Republic, The Paris Review, Dissent, Texas Monthly, and others. Email Francesca
Douglas McGray is co-founder and Editor in Chief of The California Sunday Magazine and Pop-Up Magazine and CEO of Pop-Up Magazine Productions. His features have appeared in The New Yorker, The New York Times Magazine, and the Los Angeles Times, and he has made radio stories for This American Life. Email Doug
RAHA NADDAF is Executive Editor of The California Sunday Magazine. Previously, she was Features Editor at The Marshall Project, Senior Editor at New York Magazine, and Associate Editor at GQ. Email Raha
Presley Pahl is the Office Manager at Pop-Up Magazine Productions. Previously, she worked as a commercial casting director in San Francisco, after graduating from the Film and Media program at UC Santa Barbara. Email Presley
Scott Polach is the Event Director of Pop-Up Magazine. His career has spanned event design and production, curating, and teaching art. He holds an MFA in photography from the San Francisco Art Institute, was a Graduate Fellow at the Headlands Center for the Arts in Sausalito, CA, and has an active studio art practice. Email Scott
Kit Rachlis is a Senior Editor of The California Sunday Magazine. He was editor in chief of The American Prospect, Los Angeles magazine, and the LA Weekly and projects editor at the Los Angeles Times. Email Kit
Tom Rendell is the Sales Manager for Pop-Up Magazine Productions, covering San Francisco, the Bay Area and Portland. Previously, Tom was the Publisher of Swipe Magazine in London, ran Business Development for Newsweek Europe and was Commercial Director of The Day's news service for schools. Email Tom
Paloma Shutes is Photography Editor of The California Sunday Magazine. Previously, she worked in the photo departments at Wired and GQ, where she commissioned photography recognized by the Society of Publication Designers and American Photography. She spent the past two years developing brand photography for various Bay Area tech companies. Email Paloma
Joy Shan is an Assistant Editor of The California Sunday Magazine. Previously, she was a Fox International Fellow at the African Centre for Cities in Cape Town. She has edited essays for Guernica Daily, and her writing has appeared in Guernica and the blog Africa Is a Country. Email Joy
Emily Shapiro is the Event Coordinator for Pop-Up Magazine Productions. Previously, she was the Editorial Assistant at Zoetrope: All-Story. And prior to that, she worked at the Spanish publication La Voz. Email Emily
Alex Tieghi-Walker is the Creative Director for the Brand Studio at Pop-Up Magazine Productions. He is a former Senior Editor at Vice Media, and prior to that Commissioning Editor at NOWNESS, where he developed award-winning film content and celebrated brand partnerships. Email Alex