In a year when so much was strange and hard, one thing felt almost normal. Going outside. For some of us, accustomed to the woods or the mountains or the beach on a Saturday morning, nature has been a rare constant from the time before masks and distancing and everything else. For others of us, it was something new. A revelation, even. Walking everywhere. Making plans at a park the way we used to pick a restaurant or club. Living in the environment in a new way. We created Field Guide for everyone.
We invite you to listen.
We'll take a walk together and hear stories about water, trees, and the night sky.
"Best New Podcasts of 2021"
– Spotify "New and Noteworthy"
– Apple Podcasts
Listen on: Spotify | Apple | Stitcher | Google
And we invite you to look.
We asked an eclectic group of artists to explore these surroundings with you. We hope they'll inspire you to notice things we can take for granted: the colors on a morning walk, the beauty of a moonlit sky, the flow of water to the ocean, or the sounds of a busy street. And also to think about how our lives interact with the natural world: a jug of water in the desert that quenched a migrant family's thirst, a river that made ancestors feel close, or the stars that guided a sailor far from home.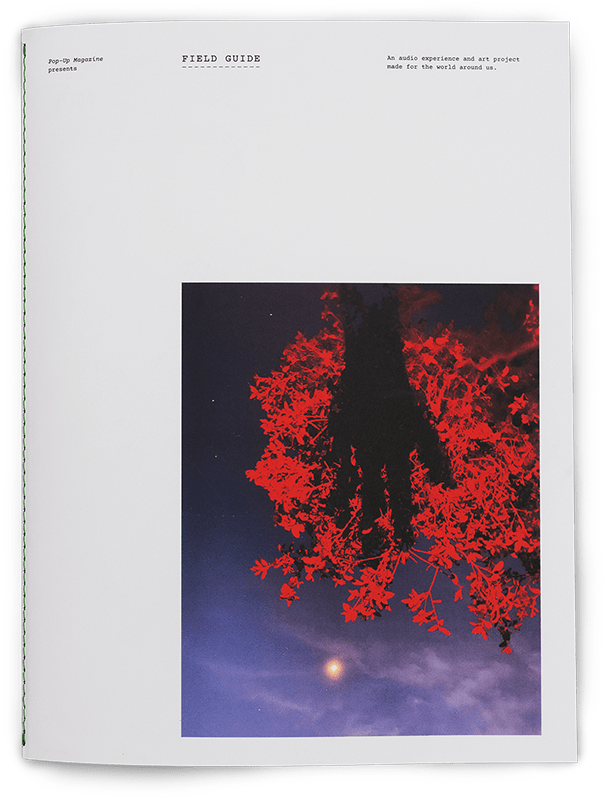 For the full experience, grab your phone and your headphones, throw the book in your backpack, and get out — explore.
Thanks for taking us along.